Lennox Systems & Collections
As a Dave Lennox Premier Dealer, True Home gets great discounts and deals on a wide range of state-of-the-art Lennox® products.
If you'd like to learn more about Lennox products offered by True Home, you can review some of the product lines below, or give us a call at 949-288-2024.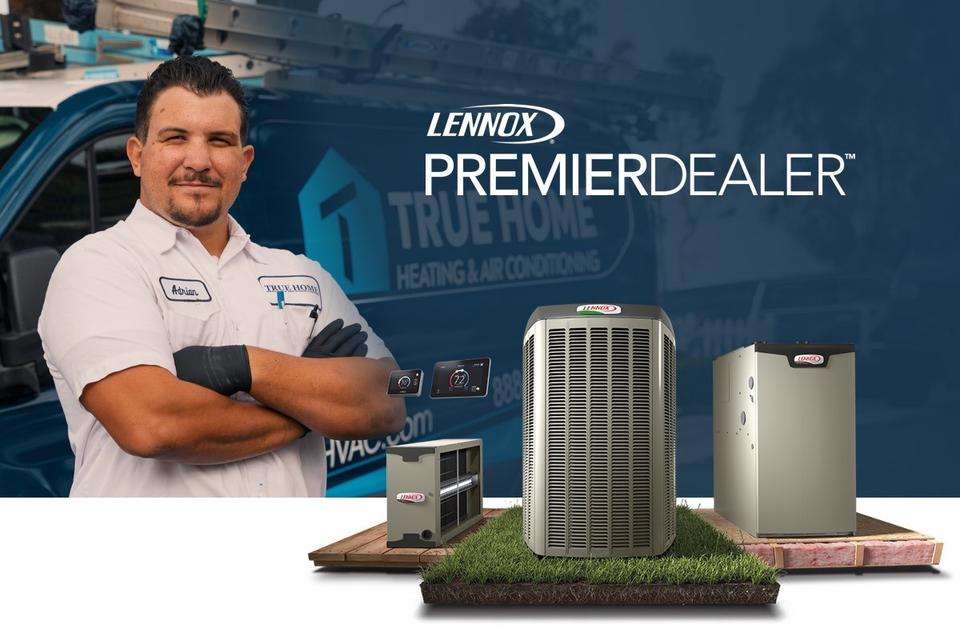 Lennox Air Conditioners & Furnaces
DAVE LENNOX SIGNATURE® COLLECTION
High efficiency. Reliable. Quiet. Those three features all describe qualities included in our Dave Lennox Signature® Collection air handlers. Combining variable speed motors, humidity controls and high-efficiency coils, these systems are the best Lennox has to offer.
--------------
DAVE LENNOX ELITE® SERIES
The Elite® Series air handlers we offer at True Home Heating and Air Conditioning in Irvine will improve your home's comfort all year long. High-efficiency direct drive blower motors and evaporator coils generate outstanding comfort and performance. Additionally, an environmentally friendly R410A refrigerant also allows efficient operation and lower energy bills year-round.
--------------
DAVE LENNOX MERIT® SERIES
If you'd like to increase your family's comfort and stay within a budget, Merit® Series air handlers could be the perfect solution and easily combines with your current air conditioner or heat pump. From reliability to energy-efficiency, you can enjoy more consistent airflow and improved indoor air quality without spending a fortune in utility costs.
-------------
THE ULTIMATE COMFORT SYSTEM™
Your home is your retreat. True Home Heating and Air Conditioning in Irvine will help you make it even more comfortable and tranquil. We carry the Ultimate Comfort SystemTM from Lennox®. Featuring the most state-of-the-art Lennox products, this system offers you peak energy efficiency, precise temperature control and clean, fresh air.
--------------
LENNOX MINI-SPLIT SYSTEMS
What are your options to heat or cool a room you've added on that doesn't attach to your ductwork? Or, what do you do to increase heating or cooling to a room that just isn't as pleasant as the rest of your house? For all of these problems and others, a mini-split system is the perfect solution.
With whisper-soft indoor operation and a condensed design that can blend with any room's decor, these units heat or cool problematic rooms. Even better, they're super-efficient with energy ratings of up to 22 SEER and 10.20 HSPF.
Lennox Air Quality Systems
COMFORT CONTROLS & THERMOSTATS
True Home Heating and Air Conditioning has a great variety of programmable thermostats for every home and budget. From zoning systems and WIFI-enabled systems to digital thermostats and more, the options are growing all the time, along with more opportunities to increase your comfort and decrease your home's energy bills.
-----------------
AIR PURIFIER & VENTILATION SYSTEMS
In Irvine, ventilation systems pair nicely with a number of other indoor air quality products, including humidifiers, dehumidifiers, germicidal lights, air purifiers and more. Give your family the clean air they deserve and contact True Home today for information on the best air quality systems on the market.
--------------------
Don't see a Dave Lennox Series or system you're interested in? Give us a call. We carry a huge variety of Lennox products and will get you exactly what you're looking for.
Ready for Great Deals on Lennox Systems?