Which AFUE Rating Is Best for Your Furnace in California?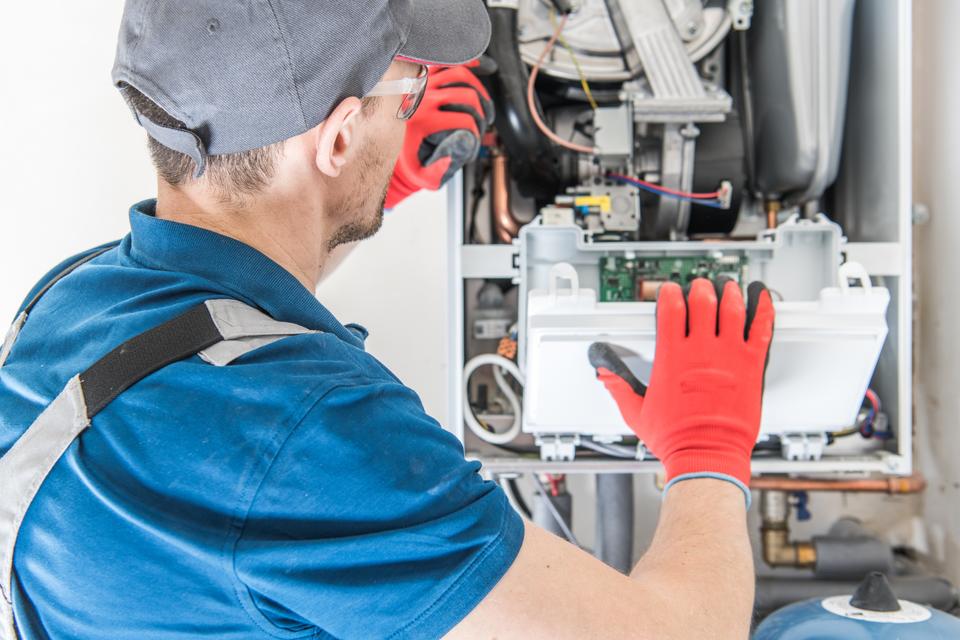 By law, all new furnaces must have an AFUE rating of 78% or higher. So anything above that is technically "good."
However, to be ENERGY STAR certified, your furnace must have an AFUE rating of 85-90% or higher. And because California energy costs are so much higher than the rest of the nation, we're keen to agree that this is probably the ballpark you should be aiming for.
That said, there are several key factors to consider when purchasing a new furnace. So to help guide you in your decision, we'll discuss:
With more knowledge under your belt, you'll be empowered to make the right choice that's true to your needs and comfort preferences.
Want trustworthy heating advice? Call True Home Heating and Air Conditioning today: 949-288-2024. Our comfort specialists have no motives aside from helping you find the right system for your home and budget.
How AFUE Ratings Are Calculated
Standing for "Annual Fuel Utilization Efficiency," an AFUE rating measures how well your furnace converts fuel into direct heat energy. (Note: because electric furnaces convert 100% of energy into heat, AFUE ratings are applicable to gas furnaces only.)
For example, a furnace with an 80% AFUE rating will turn 80% of fuel into heat, with the remaining 20% lost during the combustion process.
On the other hand, a furnace with a 95% AFUE will only waste 5% of its fuel intake.
Although it may not seem like much, that extra 15% efficiency can make a huge difference in your monthly heating bills. To see how much you could save with a higher AFUE-rated furnace, check out the energy savings calculator from Lennox.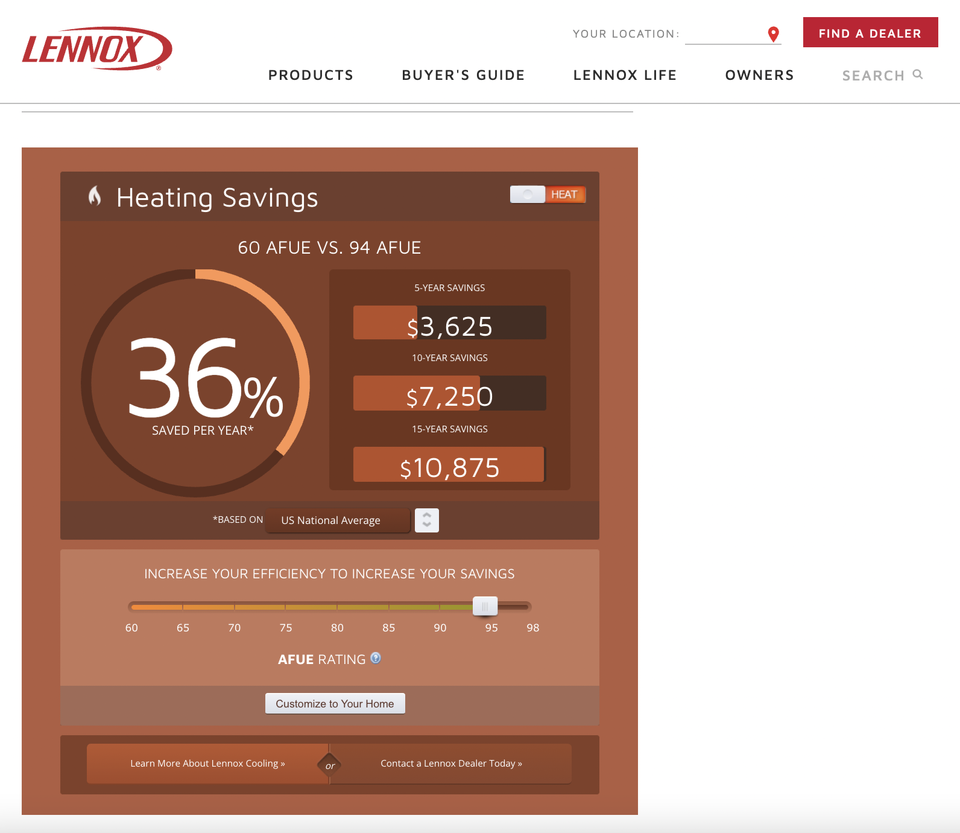 At True Home, we're a Lennox Premier Dealer, which means we get special deals on the latest high-efficiency furnaces. As these savings become available, we're happy to pass them on to our customers. To get a free upfront quote on a range of furnaces, give us a call at 949-288-2024 or book directly through our website.
The Cost Difference Between Standard and High-Efficiency Furnaces
Furnace installations in California range in price, costing anywhere from $2,500 to $7,000, with an average of $4,000.
High-efficiency furnaces typically cost the most. However, with an AFUE of 96-99%, they can also significantly reduce your heating bills. So although the upfront installation cost is more, you'll enjoy decreased energy costs long-term.
Of course, since California doesn't have severely cold winters, you may be perfectly happy with a standard furnace. Depending on how often you run the heat (or if your home is small and there's not a ton of square footage to heat) the cost of a higher AFUE-rated furnace may not be worth the potential energy savings.
That's why at True Home, we offer a large variety of furnaces with different efficiency ratings. We also get to know our customers before making any recommendations. One of our NATE-certified technicians will carefully review your home's size and layout during your free in-home estimate. Then, we can help you find the furnace that best meets your energy and budgetary needs.
Why Your Home's Ductwork and Insulation Matters
If your home has leaky air ducts or poor insulation, it won't matter how high your new furnace's AFUE rating is— you'll still be paying to heat air that's constantly escaping.
That's why before installing a new furnace, it's important to have your home's ductwork inspected for cracks and holes. If in poor condition, it's wise to invest in duct sealing. Even if you keep your existing furnace and simply repair your air ducts, you'll enjoy increased comfort and lower heating bills.
The same is true if your home is poorly insulated. To reap the benefits of any furnace, you'll want to update your insulation so that it meets California's minimum R-values.
At True Home, our highly-trained HVAC professionals can assess your home's ductwork for repairs or sealing, as well as any insulation improvements. We offer honest and upfront prices, a 1-year labor warranty, and will complete the job to your 100% satisfaction.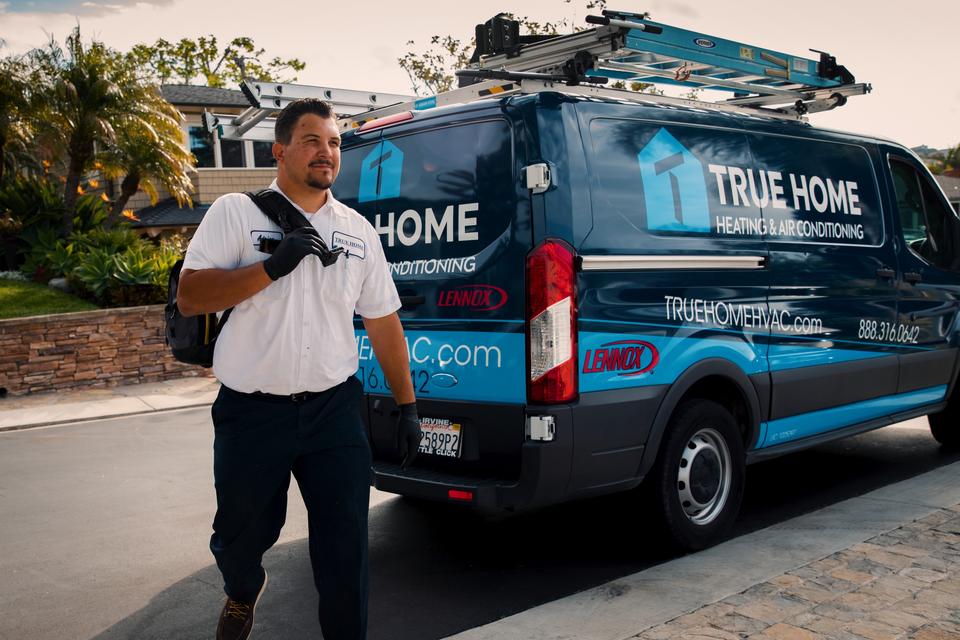 Want Heating Advice from Trusted Professionals? Contact True Home Today.
Whether you're ready to install a new furnace or you still have questions, True Home is here to help. When you speak with one of our comfort specialists, we'll take the time to learn about your unique needs, wants, and comfort preferences. That way, you end up with a heating solution that's true to you and your home.
To learn more about what to expect when you hire us, visit our furnace installation page. You can also give us a call at 949-288-2024 or schedule your free estimate online today!